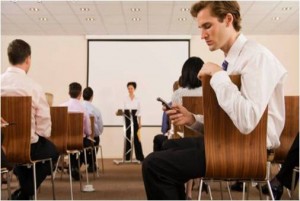 Once in a while, a term will catch my eye that resonates. Something that so clearly describes that which has been so far indescribable. This week, on an otherwise standard slide, two words popped up that spoke to me:
Interest Attrition
As a Marketer, you work to drive interest in whatever it is that you offer the market. In the digital realm, you do this through demand generation campaigns that hopefully result in capturing interest. Nothing new there.
However, once someone has raised their digital hand to indicate interest, what do you do next? How long do you wait before responding to a lead?
Every moment you wait before following up with a lead can result in, you guessed it…..interest attrition.
InsideSales.com has great metrics on lead attrition here, but can be summed up in two images:
and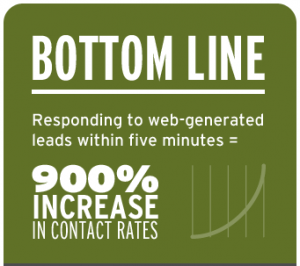 Solving for Interest Attrition
If you already have a shipping product that can be easily handed to interested leads (even with some degree of qualification), solving for interest attrition largely becomes a matter of fulfillment. What becomes interesting, however, is the case of a company that tries to generate demand prior to having a shipping product.
My favorite recent example is a company called Simple. Simple wants people to ditch their bank accounts in favor of a mobile-first non-bank that centers its offering around goal-setting. They give you a debit card, but there are no physical bank locations, and much of the interaction between the consumer and the bank happen through a mobile app.
Here's how the interest flow works:
1. Ask for an invitation: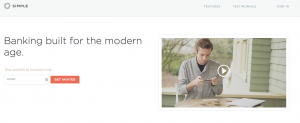 Simple is currently offered on an invitation-only basis. If you're interested, you can sign up to get an invite whenever simple is ready for you. In invitation-based companies, this is the beginning of the interest attrition clock. You're interested in their product/service, but you can't have it yet. Every day that goes by without a response increases the probability that you've either forgotten who they are or you have solved the problem you were seeking a solution to.
2. Response for reminder and expectation setting: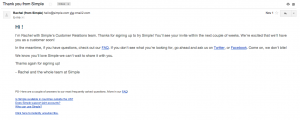 In this step, simple sets my expectation of what's next while reminding me why I signed up. I'll hear back in a couple of weeks, but in the interim I should learn more about the product and follow them on their social accounts. And rather than sending this from a cold, sterile system account, the email comes from a person. Nice touch.
3. The invitation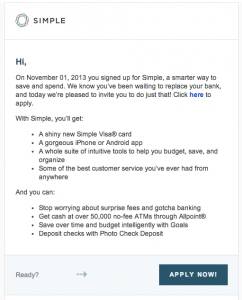 It's now time. I have an invite, and it has only been 4 days since I signed up. This email reframes why I signed up, the benefits I'll get, and tells me why I should take action.
4. The no action follow-up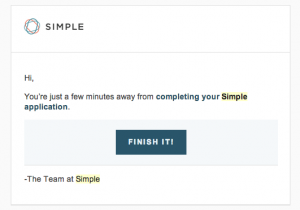 Although I received the invitation, I didn't finish the application. Two days later, I received a reminder to let me know that it will only take a few minutes to finish what I've started. Clear and concise messaging.
5. Seriously, finish this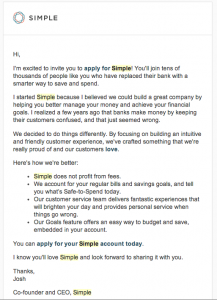 7 days after my last reminder, Simple sends me a message from their CEO and Co-founder, restating the company's origin story, what it stands for, and what I'll get if I finish my application.
Summary
Interest attrition happens any time a lead expresses interest without instant gratification. What is important is how you stay top-of-mind. I'll be exploring this topic more in 2014, as some of what I'm doing now will serve as a good case study.
{ 0 comments }