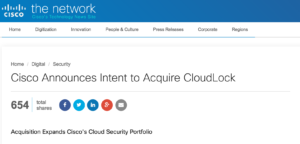 Big news today, as CloudLock was acquired by Cisco for $293 million. From the announcement on TechCrunch:
Twilio isn't the only company banking on API-based services as the way forward for enterprises. Today, Cisco announced it plans to pay $293 million in a mix of cash and equity to acquire CloudLock, a cloud-based security provider that uses APIs to let enterprises apply and monitor security on documents and other content that they share and store in cloud-based applications.

CloudLock works with Office365, Google Drive, and Salesforce applications, among thousands of other apps and software. Its focus is on offering security and enforcing policies to protect documents, regardless of device used to access it, and allowing for specific controls based on location. In that regard, CloudLock is tapping into another big trend beyond the use of APIs to implement services: that of "consumerization" in IT, where people are using their own (unsecured) devices for work purposes, and in a range of environments from their homes to places where they are connecting by (also unsecured) public WiFi networks. The company has more than 700 customers, Cisco says.
When I left CloudLock in 2013, I wrote the following post, saying:
Though I hope to have thanked everyone individually at CloudLock before the end of the day today, I want to do it here, too. I've worked with incredible people at CloudLock and have learned a lot. I wish everyone continued success, and will be following the company closely as it becomes the #1 company people think of when they're looking to keep information secure in the cloud.
Looks like they made it. Congratulations, everyone!