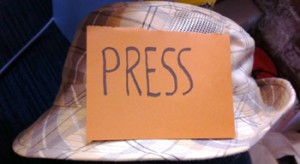 This morning I am glued to my monitor, tracking the news coverage and tweeting, +1ing, LinkedIn-ing, facebooking, and whatever -ing you can think of related to a press day. The reason? At CloudLock, we just announced the closing of our Series B Funding Round.
Since much of what happens behind the scenes is a mystery (maybe that's making this sound too interesting), I thought I'd take the time to outline what happens up t0 and after the release of a funding round.
March 16th – Come up with first draft of press release. The draft includes all the major details of the round, but needs quotes from both investors. The release is shared with all parties involved.
March 19th – All quotes have been given and approved. Aside from some minor tweaks, the release is good to go, so we hand it over to our PR firm to start doing outreach.
March 20th – After pitching to a few media outlets, interest is starting to come in and coverage is secured. Over the next few days, our CEO does interviews with 7 publications.
March 26th – Final interview done. Articles are written, waiting to be published on the 27th at 9:00 AM.
March 27th – Press time. I have my press hat ready and am tracking coverage and prepping our email newsletter to go out with the news as the main topic.
8:21 AM- TechCrunch article hits: CloudLock Raises $8.7M To Help Secure Enterprise Data In The Public Cloud
8:37 AM- BostInnovation article hits: CloudLock Raises $8.7M Series B to Grow Cloud Security Business in Waltham
9:00 AM – I post on the CloudLock blog: Expanding to Keep Up with Customer Demand or: Closing Our Series B Funding
9:00 AM – Xconomy article hits: CloudLock Nabs $8.7M for Cloud Security Tech
9:00 AM – Boston Business Journal article hits: A Year After Pivoting to Data Security, CloudLock Finds $8.7M in VC
9:45 AM – Boston Globe article hits: CloudLock closes $8.7m in Series B funding
10:00 AM – Talkin' Cloud article hits: Data Security Firm CloudLock Raises $8.7 Million in Funding
10:13 AM – PEHUB article hits: CloudLock Calls Up $8.7M
10:40 AM – MassHighTech article hits: Cloud Software Company Locks in $8.7M in Funding
11:17 AM – VentureWire mention on Wall Street Journal
11:28 AM – VentureFizz article hits: CloudLock raises $8.7M in funding
11:35 AM – Fortune mention
12:01 PM – Boston Herald article: Waltham's CloudLock raises $8.7M
1:00 PM – Newsletter scheduled to go out
So far there have been hundreds of mentions on twitter, mostly linking to the articles linked above.
What's the Point?
Good question.
Awareness – It may be hard to believe, but CloudLock is not yet a household name. And a funding event is a great way to garner top-tier coverage (see above), which in turn garners eyeballs. Although we may not see any direct sales as a result of the funding event today (ie: "Hey, these guys just raised money. I should buy their product immediately!!"), there will be people that hear about us for the first time as a result. And only people that have heard of you will buy your product.
Relationships – Those that decided to cover the funding event now know about us and what we do. And although some won't care, others will be much more willing to talk to us the next time we have news.
Talent – One of the main points of doing the round is growing our company. That means we need to attract talent, and many of the articles above talk about our focus on expanding our team. In a tough talent market, getting your name out in publications where your target employees spend their time is something money can't buy (other than buying a spot on a job board. not the same).
I'll update with stats when the storm is over.