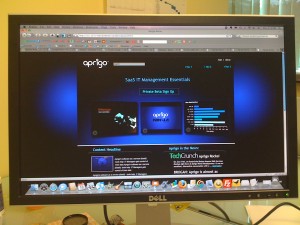 A little over four years ago, I went on an interview at a very early stage company in Waltham, MA called Aprigo. I remember thinking "these guys are super intense." They were. And they are.
The challenge: create something out of nothing. Should be easy, right?
We were creating a product that was served from the cloud to help IT professional take control of their unstructured data (files). We then decided to create a version of the product for Google Apps, letting companies see how employees were sharing data in Google's productivity suite. The thinking was that if a company was using Google Apps, they would still have files on-premise, so we'd give them "Aprigo NINJA for Google Docs" for free to help generate leads for the other product.
Then something funny happened. People wanted to buy the Google Apps version, and didn't care about the other product.
The Pivot
Our CEO and founders made a decision: We're going all in. 100% cloud. We were entertaining a name change, and since we were going to be offering security for data in the cloud, I came up with a name I really liked: CloudLock. It was a hard fight against candidates like Cloud Commander (the company's founders all have a military background), but I think it's a pretty good name.
Since then, we've been able to market and sell to the largest companies in the world that use Google Apps. In fact, we like to say "The largest Google Apps customers in the world trust CloudLock to secure their data." That's not just a tagline. It happens to be true.
The Decision
Four years is an awful long time in startup years. And while I continue to believe in the company's success, it is time for me to move on. So after today, I'll be taking a long, two-day vacation and will be joining Cambridge-based MineralTree on Thursday.
It's a completely different market that will require a different set of strategies and tactics than what I've been doing here at CloudLock. And I'm ready for that.
Thank You
Though I hope to have thanked everyone individually at CloudLock before the end of the day today, I want to do it here, too. I've worked with incredible people at CloudLock and have learned a lot. I wish everyone continued success, and will be following the company closely as it becomes the #1 company people think of when they're looking to keep information secure in the cloud.