Today our company announced our Series A funding round with HP Ventures, Ten Eleven Ventures, and YL Ventures participating in the round. From the release:
$8 Million Investment Round to Fuel Research and Development and Expand Marketing and Sales Worldwide

BOSTON and TEL AVIV, Israel February 10, 2016 – Hexadite, Inc., the leader in security orchestration and automation, announced today it closed $8 million in a Series A funding round from Hewlett Packard Ventures, Ten Eleven Ventures, and YL Ventures, who also invested in Hexadite's seed round. The company plans to use the funds to accelerate research and development in Israel, expand its marketing and sales operations worldwide, and continue to build momentum for the industry's first solution that fully automates cyber security incident response, Hexadite AIRS.
The Press Hat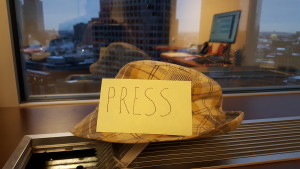 Traditions are important. Back when I was at matchmine, I purchased a very ugly hat which began a tradition. Each time I participated in a launch announcement, I would call on the press hat for good luck. You can see it during the Series B announcement for CloudLock in 2012, and it is now being called upon for good luck during today's announcement.
Messaging
There are 3 main points we hope to highlight in today's announcement:
We're Going to be Here for a While – With so much heat and consolidation in the cybersecurity space (see FireEye's acquisition of Invotas), it stands to reason that enterprises are cautious when purchasing security solutions from early stage companies. It's something Adrian Sanabria from 451 will be covering at RSA in his session "Security Startups: The CISO's Guide to Flying High without Getting Burned". Investment from a company like HPE and a VC firm with such deep cybersecurity expertise like 1011 gives customers the confidence they need to work with us.
Security Orchestration and Automation – We're operating in a space (cybersecurity) that is morphing at the speed of light. Whenever that happens, it takes time for the industry to decide what to call itself. While some say "incident response" and others "endpoint protection", we wanted to be clear around the fact that we orchestrate and automate. We orchestrate the incident response process by taking input from the devices and security systems you have in place, then automate both the investigation of alerts and the incrimination, exoneration, and resolution of threats.
When We Say Automation, We Mean It – Where other solutions automate the collection of data and hand off instructions to humans, we actually do the work. From alert to full resolution, our definition of automation consists of taking action.
Media Coverage
To me, the day before a launch/announcement is exhilarating. You get a chance to talk to members of the media who haven't been living in your 4 walls in order to test the theory that your messaging is crisp, clear, concise, and interesting. And while you should be prepared to anticipate a wide range of questions, this is the first time you can test your positioning in the wild outside the lab. You'll almost always get questions and feedback that would be impossible to prep for in a simulation, and that's the fun part.
A few highlights: