This morning I was going through my RSS reader when I found a local startup called CustomMade.com, and after viewing  a few pages and their blog, I felt that I understood something about them that many startups lack: a clear and cohesive personality. And that's not easy.
Personality is such an intangible, but you know it when you see it. And when it comes to a company's personality, it has to be genuine. When manufactured, it just doesn't work.
When we create content as startup marketers, we spend so much time focusing on our target constituencies, defining who we're talking to. It's easy to lose sight of who we are and what we sound like.
I'd like to use CustomMade.com as an example of a startup that does a great job of clearly and consistently showing who they are through both language and design.
What Is CustomMade?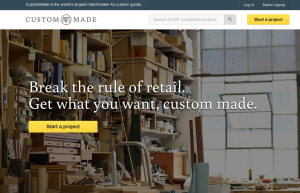 You may not have heard of CustomMade (I hadn't until this morning), but a visit to their home page clears that up. Not only does the text at the top of the page clearly state "CustomMade is the world's largest matchmaker for custom goods", the design and imagery scream out what the company does. You see a cluttered wood shop with, well, custom made work everywhere. You can tell that this is a site for expertly made items that can't be pulled off a shelf in a retail store. In a few blinks, I know what the site is all about. I can't tell you how difficult that is.
Scrolling down on the page brings you to the "How it Works" section: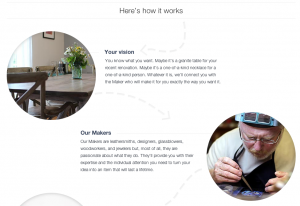 Quickly scanning the text and looking at the images, I see that CustomMade is a matchmaker between people wanting expertly-crafted, one-of-a-kind items and the artisans (is that even still a term?) that make them. Look at the image of the "maker". A great image showing someone meticulously crafting….um, something. It definitely sets the right tone.
Let's move on to the "About" page: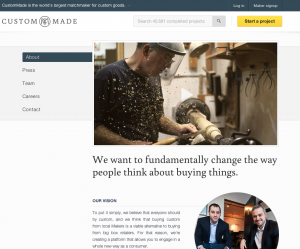 Right on the about page (and larger than the photo of the founders) is a huge hero shot and video of someone hand-crafting something. It's a great shot. And the main message is big, clear, and aspirational.
How about an individual maker's portfolio item page: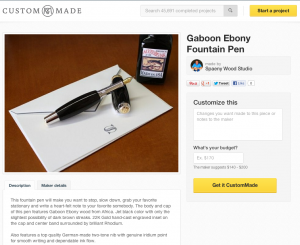 Now that is a beautiful pen. If anyone is looking for a last minute Christmas gift for me……..
Moving on to their blog: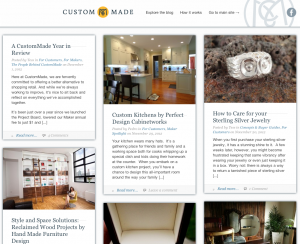 The language and imagery here set the tone. Warm, beautiful, elegant, personalized…just a few of the words that come to mind.
And another that comes to mind: expensive. And I don't mean that in a negative way. Instead, when you think of a marketplace for goods like an eBay or etsy, it feels transactional. The auction or buy now setting gives the feeling of pressure and even competition. Contrast that feeling with what you feel on CustomMade. It feels like you can slow down and talk with a maker one-on-one. There's no rush.
Because the average price of an item made and purchased via CustomMade.com is around $1,500 (source: Boston Globe), the experience has to be different than a typical, transactional, "buy now or it'll be gone" online shopping setting. Think of any high-priced, luxury item that you've purchased (or wanted to). The setting has to be one where you feel comfortable and can trust that you're making the right decision. They pull it off.
Conclusion
Creating a personality for a startup is tough. It involves both art and science, tangible and nuance. And though it may not be easy to calculate the ROI of personality, it can make all the difference.