A week ago or so I received an email from SNUGG, asking if I would review their iPad case on the blog. And while iPad cases don't have an exact connection to startup marketing, I decided to give it a shot. I haven't written anything lately and have been meaning to, so this was exactly the push I needed to start writing.
A few years ago when it was new, my wife bought me the iPad 2 for my birthday. I didn't really know why I wanted it or what I would use it for, I just knew that I had to have it. At first I tried to use it as a device to create content and do work (blog post, emails, etc.), I soon realized that this was a device for consuming content rather than creating it.
But I've certainly found it useful and I love it. I download books, jot quick notes, and use it a lot for reading sites like reddit or techmeme.
One thing I don't like is the cover. I opted to get the creamsicle orange cover (as anyone who knows me realizes I love the color orange), but there's one problem: it gets really dirty looking: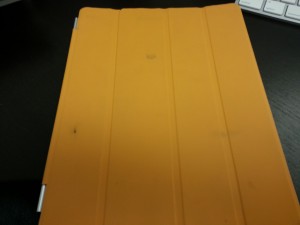 I usually put the iPad into a bag that is filled with pens, so ink stains are common and look awful.
Two days ago, my new Snugg iPad 2 Case Cover and Flip Stand in Orange Leather arrived.  Out of the box: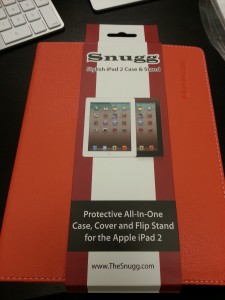 It's very orange. I like the color a lot: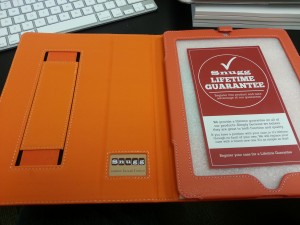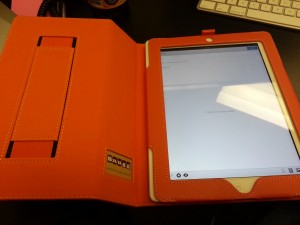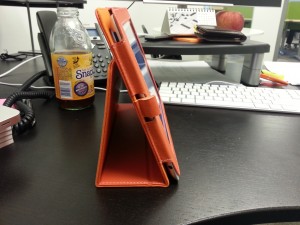 The Pros
Compared to the standard Apple folding cover, this is much more heavy duty, and it doesn't fall off. I love the color, and it just feels more protective and could withstand a drop or two (I'm not testing that).
The Cons
Due to the added security and material, it makes the iPad a little bulky, but it still fits in my laptop bag.
Overall, I really like this case. Great color, a little added security, and it just feels much nicer than the Apple folding iPad color.